Find Us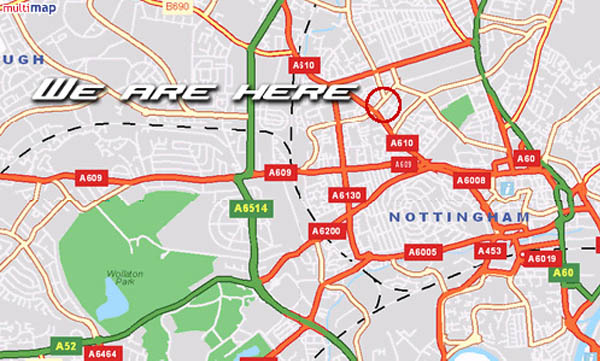 C&R Enterprises, Units C1-C4 Lake Street, Radford, Nottingham NG7 4BT
C&R Enterprises is centrally based in Nottingham, with easy access from all parts of the country via the M1. Follow the map from Junction 26 on the M1 Motorway.
For Those Using SAT-NAV simply type NG7 4BT
In Depth Instructions To C&R From Junction 26 Of The M1
Leave the M1 at junction 26 (We are about 7.5 miles from this junction)
At the island at the bottom of the slip road take the exit marked A610 - Direction - Nottingham
Travel about half a mile to a large traffic light junction - continue to follow signs for A610 Nottingham.
You should now be on a national speed limit dual carriageway for about a mile.
At end of dual carriageway there is a large traffic island - take 2nd exit still A610
Beware - this section of A610 is 30 mph and has numerous sets of Average Speed Cameras!
Follow A610 for a couple of miles eventually passing a Halfords motor shop on your right and just after this is a Petrol station. Shortly after these you arrive at a large traffic light junction where you cross the Nottingham ring road (A6514) carry straight on on the A610.
Continue on the A610, to your right you will pass a Public House called the Whitemoor and immediately after that there is a Halfords Garage / MOT Station.
Continue through a set of traffic lights just before going over Bobbers Mill Bridge. On the far side of the bridge Police like to sit in white Transits with the back doors open!
Continue on the A610 for a further mile, to a cross roads with traffic lights, continue through the lights passing a Carphone Warehouse on your right.
The A610 now starts to go up hill, continue to another set of road traffic lights at a crossroads with an old victorian school on the left corner.
At the traffic lights turn left (leaving the A610) onto Bentinck Road.
Almost immediately turn right into Peveril Street.
Travel 25 metres and then turn first left into Lake Street.
C&R are 25 metres along Lake Street on the right handside in a small block of industrial units just to the left of QMS motorbikes.
We are happy to offer advice and can arrange accommodation and car hire if required. Telephone (+44 115 978 5740), Fax (+44 115 924 4903) or email us for assistance.
Please click a product type